Decorating your Thanksgiving table (especially when hosting a big crowd!) does not need to be stressful or time consuming. Here are my favorite tips to help you keep this holiday stress free so that you can focus on what is really important – the people sitting at your table with you ;).
In a recent post, I shared my favorite Thanksgiving prep items – including food products from Williams Sonoma that I cannot host without (ahem – dry brine anyone?! – but also don't underestimate how important a good oven thermometer is too!).
So now that I have placed my WS order for that dry brine and focaccia stuffing mix, I can focus on how to minimize my efforts while still having a gorgeous fall decorated table for my 20+ guests I will be hosting on turkey day ;).
Although, before I forget – I should also share my handy Thanksgiving prep timeline with you in case you are needing a little guidance on how to stay organized for the day ;).
I am also joining a fun group of bloggers organized by my sweet friend Jen at Tater Tots and Jello to share an incredible amount of Thanksgiving table inspiration with you.
And if you are on my blog because of Ashley from the Handmade Home – hi there! I hope you loved her tips for an easy Thanksgiving table and are excited for more inspiration headed your way ;).
Don't forget to read all the way to the bottom of this post for a list of the many other blog posts to help you set a beautiful and festive table!
As an Amazon Influencer, I earn from qualifying purchases. Some of the other links on this site are also affiliate links, which means I might earn a small commission if you love something as much as I do at no additional cost to you… but I only recommend what I actually like myself! 
Read the full disclosure here.
In a rush?
If You Can – Move Outside!
In case you didn't notice from the above photo, we eat our Thanksgiving dinner in our backyard :).
We are very lucky in San Diego that our weather at the end of November has high temps in the low 60's and lows in the high 40's.
So I set the arrival time for my friends and family at 3pm and by 6pm we are done eating and are chilling around my favorite fire pit table (currently on sale too btw!).
We moved our festivities outside in 2020 (you undoubtedly know why!) and loved it so much we haven't moved it back inside yet ;).
If you have any possibility of moving your group outside – I highly suggest it!! If not for how easy it makes the cleanup, the crisp fall air really adds to the ambience.
Start with a Neutral Table Runner
Whether you are inside or outside, Thanksgiving colors are most often in the neutral color scheme so starting with a neutral table runner on your table makes sense.
I recently found a flax runner with a gold border that I just ordered and will be using on my table next month ;). I will definitely share more info once it arrives!
Mix and Match Fall Colored Chargers
Since I use multiple benches for seating at the two tables we use for our outdoor Thanksgiving meal, I like to use chargers to differentiate how many people need to sit on each bench 😂.
But even if that wasn't my secret to making people cozy in together on the benches – I do think chargers really help the look of a table ;).
And copper or gold chargers look amazing on a Thanksgiving table ;). If you are having a large group and don't want to have a collection of 20-30 of one style/type of chargers – mix and matching will look equally as festive.
Here are two styles that I fell in love with this year:
Style on the left can be found here and the style on the right can be found here ;).
I fell in love with these harvest paper placemats and obviously the cleanup on them is a huge plus!
Use Fancy Disposable Items
If you would have asked me five years ago if I thought it was okay to use disposable anything on a holiday table – I would have said absolutely not!
But now that I am in my mid-50's and I realize you know what – anything goes and if cleanup is a breeze and allows me more time to enjoy with my friends and family – then heck yea I'm in!
This year, with a group of more than 20 friends and family coming over, I plan on using these gold rimmed plates with these gold rimmed cups and gold silverware.
Be Creative with the Napkins and Napkin Rings
I found these simple yet festive Thanksgiving napkins and wrapped these wool pumpkins around them to put on each place setting.
And my plan is to make a big ole pile of them after dinner to be brought to the dry cleaners the week after ;0 (remember my plan is to keep it easy!).
However – I also have plenty of these disposable napkins that are more elegant than the average paper napkin if you don't want to use cloth ;).
Put Plenty of Ambient Lighting on the Table
Last year I found these gorgeous leaf light strands and love what they add to the Thanksgiving table.
The pumpkin candles were a Terrain find in September 2022 and of course are not available this year however I have found plenty of options for your Thanksgiving table this year linked below.

Don't Forget the Turkeys, Acorns, and Pinecones
Sadly my woven turkey is no longer available at Target and honestly, simple neutral woven turkeys at the end of October are hard to find. However, I did find this one option after googling and looking for a replacement ;0.
Scatter some artificial acorns and smaller pine cones around the table and instantly your table is ready for your Thanksgiving guests ;).
I hope you found some inspiration for how to decorate a Thanksgiving table.
If you are hosting a larger crowd, keeping it easy and simple is so important in order for you to enjoy the day along with your guests ;).
Thanksgiving was always my mom's favorite holiday and for the first fifteen years of my marriage we would spend it with her in Wisconsin.
But as my kids got older and life got crazier, it worked best for my family to stay in California for the holiday. So while I am not with my mom and sisters for this special day, we will always treasure our turkey day memories with each other.
This year will be the first year that only one of my three kids will be home for Thanksgiving – don't even get me started on that emotional roller coaster ;0. But I plan to enjoy the moments with the loved ones that will be with me at the table – decorated or not – and I hope you do too!
My good friend Rhonda from Hallstrom Home is sharing her Thanksgiving table here – please be sure to go take a peek – she always has the prettiest table ideas!!
Looking for an item that wasn't linked in this post?
Be sure to check out my 'Home Tour' pages!
Did you find this post useful? Pin it to your boards – just click the Pin button in the upper right corner!
Autumn shows us how beautiful it is to let things go.

~ Unknown
Don't miss any of my tips, inspiration or stories! Follow me on Instagram, Facebook, and Pinterest.
As always, I love hearing from you!
I make every effort to reply to every comment below. But if I missed it – please feel free to contact me here.
More Inspiration from Fellow Bloggers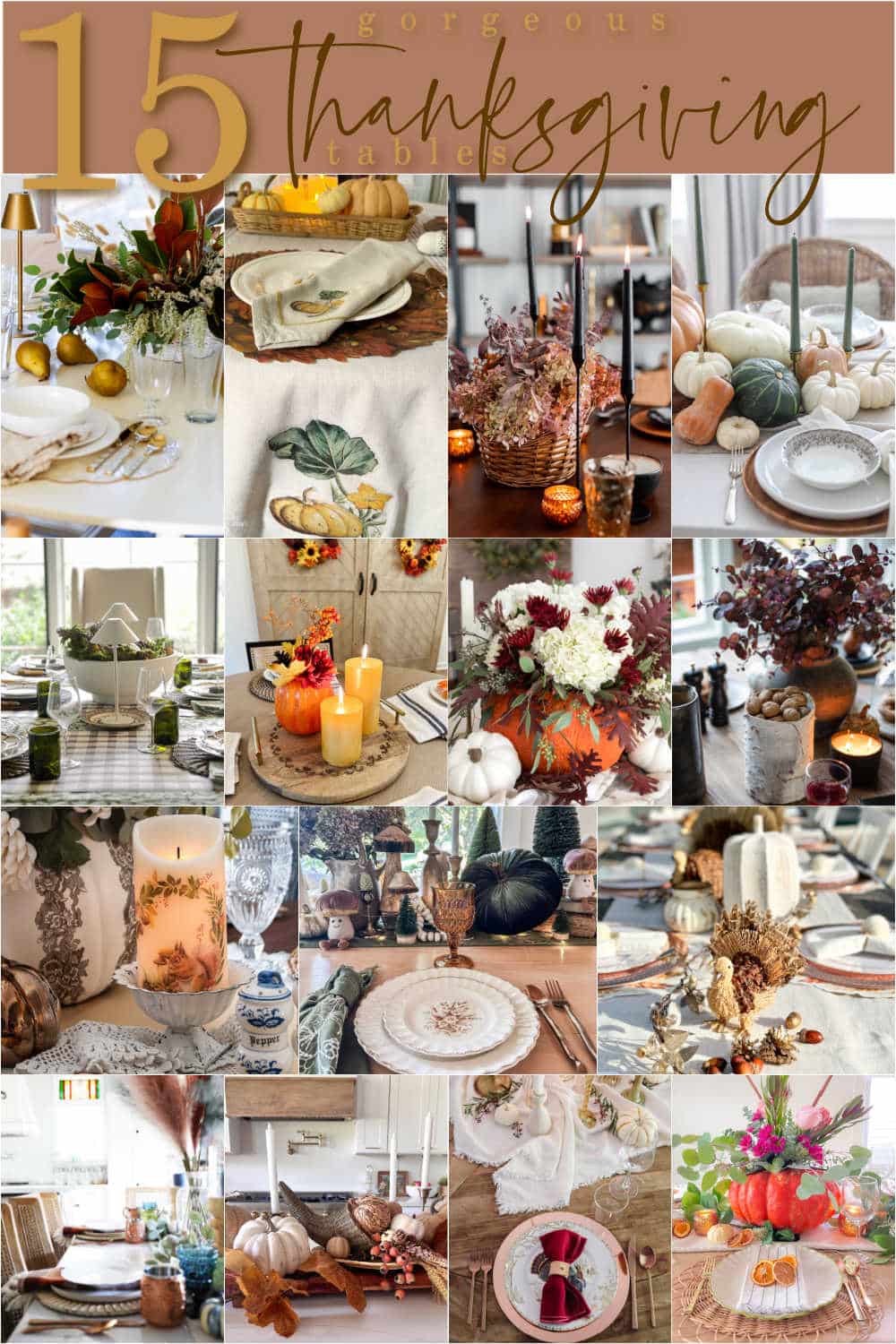 Thanksgiving Table Setting With Magnolia Leaf Centerpiece | Zevy Joy
Fall DIY Decor Project Ideas | Today's Creative Life
Late Fall Moody Tablescape | Craftberry Bush
Thanksgiving Tablescape 2023 | Rooms For Rent
How to Style and Set a Thanksgiving Table | The Tattered Pew
Effortless Thanksgiving Table Setting: Quick Tips for Last-Minute Hosts | She Gave It A Go
How to Make a Simple Pumpkin Floral Arrangement for Thanksgiving | Midwest Life and Style
How to create an organic modern Thanksgiving table setting | My Sweet Savannah
Thanksgiving Table with Mismatched Dishes | DIY Beautify
Fall Thanksgiving Table | Hallstrom Home
How to Decorate a Thanksgiving Table for a Crowd | Pasha is Home
Tips for an Easy Thanksgiving Tablescape | The Handmade Home
How to Create a Thanksgiving Centerpiece with Thrifted Finds | Lolly Jane
How to Decorate a Round Table for Thanksgiving | Modern Glam Home
Thanksgiving No-Carve Floral Pumpkin Centerpiece | Tatertots and Jello