My mom's quick, easy and tasty fudge recipe is honestly one of my favorite treats to make (and enjoy) during the holiday season!
In fact – I just made a batch of this treat about an hour ago!
I mean – maybe to get blog post photos but the perk of publishing my favorite recipes on this blog is that I GET TO EAT THE FOOD AFTER!
Although – I am a tad nervous that it is only my husband and I in the house this week while this treat is also in the house…
Because – well – I bet you can figure out the reason for that concern 😂.
Obviously the photos in this recipe post are from my kitchen – so if you want more details on my festive kitchen – be sure to read that post!
At the bottom of this post, I have included some more tasty holiday treat ideas from some of my favorite blogging friends. My sweet and talented friend Jen from Midwest Life and Style coordinated 16 of us to share and wow – you will love what we all shared!!
Heidi from Eleanor Rose Home shared a recipe for holiday monster cookies that I cannot wait to try out!
As an Amazon Influencer, I earn from qualifying purchases. Some of the other links on this site are also affiliate links, which means I might earn a small commission if you love something as much as I do at no additional cost to you… but I only recommend what I actually like myself! 
Read the full disclosure here.
In a rush?
A Quick, Easy, and Tasty Fudge Recipe
This recipe is one of my mom's holiday treat recipes.
And I remember the first time I made it in my tiny newlywed apartment in New York.
I was rather surprised at how long I was standing in front of the stove stirring the sugar, milk, and marshmallows 🤪.
That said – my biggest recommendation for this recipe is to have a stool at the ready by your stove for the six plus minutes of constant stirring…
The Recipe
My Favorite Fudge Recipe
Ingredients
1

pkg

milk chocolate morsels

(I use Nestle brand)

¼

cup

butter

⅔

cup

evaporated milk

2

cups

sugar

12

large marshmallows

1

tsp

vanilla
Instructions
Line a small cookie sheet with waxed paper or use Crisco shortening to grease pan

In a metal or glass mixing bowl, combine chocolate chips and butter making sure every morsel is covered in butter, set aside next to lined cookie sheet

Combine evaporated milk, sugar, and marshmallows in a saucepan

Cook above mixture over low heat stirring constantly until bubbling

Once bubbling, use a timer to continue stirring for six minutes on low heat

When the six minutes is over, turn off heat on stove, and quickly add the vanilla to the stovetop mixture and stir

Acting quickly, pour marshmallow mixture into bowl with chocolate chips and stir very quickly (the chocolate chips should all melt with the heat of the mixture)

Spread smoothly onto the cookie sheet in desired thickness

Refridgerate for 2-3 hours to set fudge
Tips for the Perfect Batch of Fudge
DO NOT STOP STIRRING THE MARSHMALLOW/SUGAR/MILK MIXTURE – it can burn very easily and then your fudge will not be creamy and melt in your mouth 😬
Do not put your stove temperature higher than medium – the key to heating up your sugar ingredients is to heat it up slow and steady. The temperature of this mixture is what will decide the texture of your fudge :).
Be careful when you add the vanilla to the hot mixture – it will bubble up and might even splatter a bit – AND IT IS HOT!!
When I say – quickly start stirring your fudge mixture once you have added the hot sugar, milk, and marshmallows to the chocolate chips/butter – I AM NOT KIDDING! This step needs to be done super fast while your sugar is still hot enough to melt the chips and butter.
Use a nonstick saucepan – the hot sugar mixture will be pretty attached to your saucepan and a nonstick pan will save you time in the clean up ;).
Cut the slab of fudge into 8 squares and wrap each individual square in waxed paper and store in the refrigerator. I have had my fudge stay fresh in the fridge for over THREE weeks some seasons (if you actually don't eat it immediately that is 😂).
My Kitchen Favorites I Use to Make this Recipe
I have learned over the years that I well stocked kitchen really makes a huge difference when baking for the holidays ;).
There are even some "cannot live without" items in my kitchen that when I think back to baking around the holidays in my early twenties – I am very grateful to be so lucky to have upgraded the majority of my cooking/baking items over the years ;).
Here are the kitchen items I use to make this delicious recipe!

I hope my quick, easy, and tasty fudge recipe becomes one of your most favorite holiday treats as well!
It is definitely one of my fastest treats to whip up.
And with New Years Eve and Valentine's Day coming up next – it is a very versatile treat that is not just for Christmas :).
My friend Jen from Tater Tots and Jello is sharing a delicious looking chocolate dipped Oreo recipe that is 100% worth checking out as well!!
Looking for an item that wasn't linked in this post?
Be sure to check out my 'Home Tour' pages!
Did you find this post useful? Pin it to your boards – just click the Pin button in the upper right corner!
Oh Christmas isn't just a day,

It's a frame of mind.

~ Miracle on 34th Street
Don't miss any of my tips, inspiration, or stories by following me on Facebook, Instagram, and Pinterest!
As always, I love hearing from you!!
I make every effort to reply to every comment below. But if for some reason I missed it – please feel free to contact me here.
Have a wonderful day my friend! I hope something makes you smile today ;).
More Delicious Holiday Treat Recipes from Blogger Friends
Christmas Cookies and Holiday Treats
Are you looking to add some new recipes to your holiday rotation this year? Click on the links below to go to each post and see more.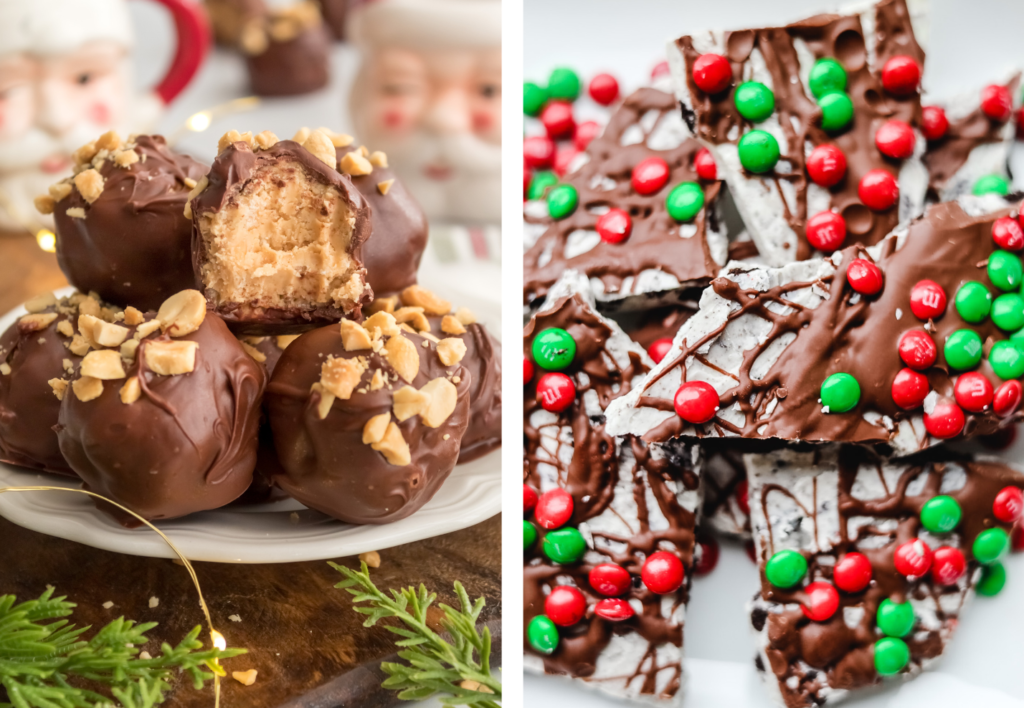 Midwest Life And Style – Peanut Butter Balls | Cottage On Bunker Hill – Double Chocolate Oreo Bark | White Lilac Farmhouse – No Bake Christmas Cookies | Cottage In The Mitten – Holiday Peanut Butter Cookies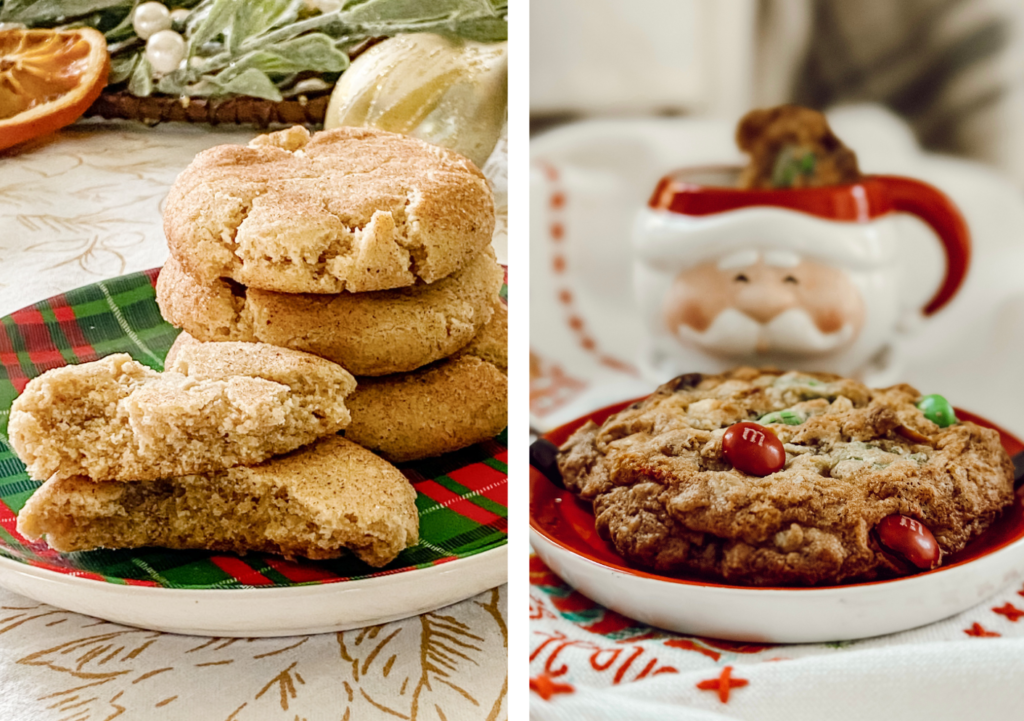 My Family Thyme – Eggnog Snickerdoodle Cookies | Eleanor Rose Home – Christmas Monster Cookies | Pasha Is Home – Christmas Fudge | Tatertots And Jello – Holiday Dipped Oreo Cookies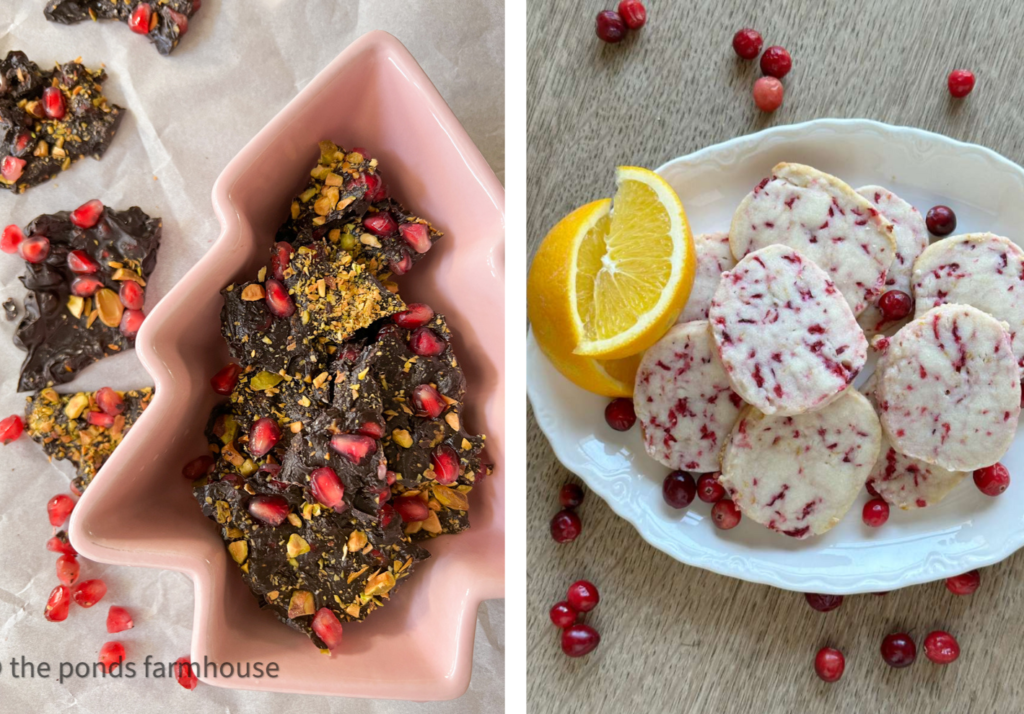 The Ponds Farmhouse – Dark Chocolate Pomegranate Bark | Vintage Home Designs – Cranberry Orange Shortbread Cookies | Our Tiny Nest – Pistachio Thumbprint Cookies | Bricks 'n Blooms – Tiger Butter Fudge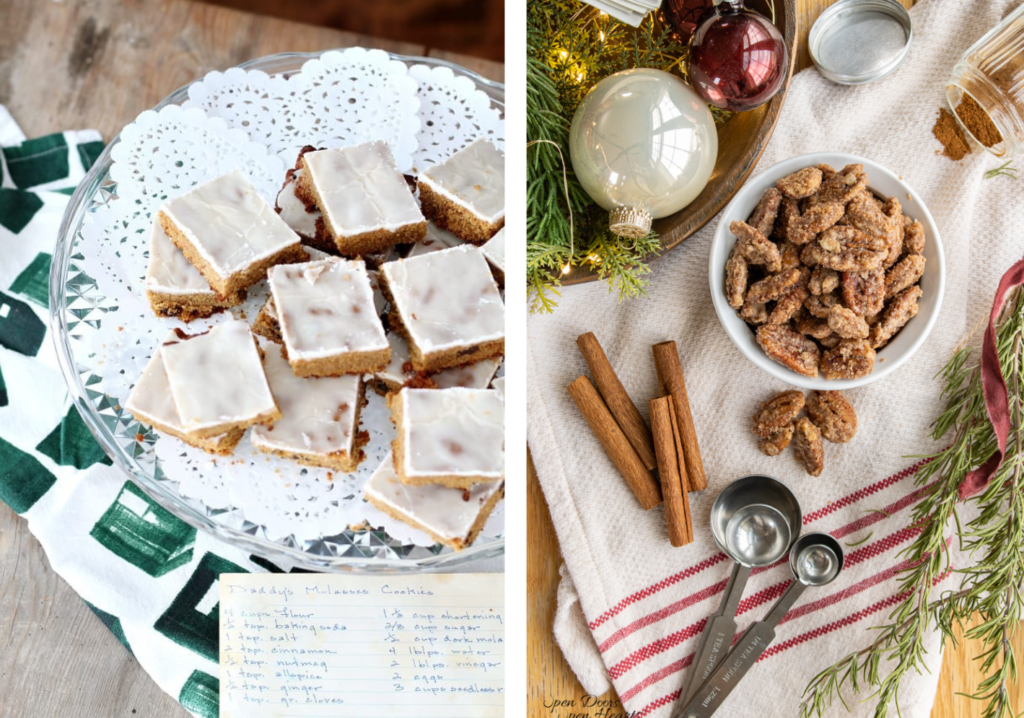 The Tattered Pew – Daddy's Molasses Cookies | Open Doors Open Hearts – Cinnamon Sugar Pecans | WM Design House – Cinnamon Popcorn | She Gave It A Go – Holiday Punch