Are you looking for some simple fall decorating ideas to get excited about? Now that we are on the last days of August, I know I am!!
What are your favorite things about fall? Mine are football (especially Oregon Ducks), apple desserts, and visiting places where I can wear my cute fall sweaters and boots.
Visiting places is on the list because while San Diego does get a "sort of" fall season with cooler nights, the leaves don't actually fall off our trees until later in December. And even then it is not a very dramatic occurrence.
Since my kids are older, I have been able to start taking a fall getaway to places that experience fall in all its glory.
Like Vermont and Great Smoky Mountain National Park.
And Washington State and Mount Rainier National Park.
But while I am home – my favorite things about fall are the gatherings with friends on cool autumn nights.
And obviously – the DECOR!
In fact, fall decor holds its ground next to Christmas decor for me.
The neutral colors just give me a sense of coziness and welcome.
I am excited to get out all the bins and experiment with how to change up what I did last season just a tad.
And of course, take inventory and decide what I wasn't super passionate about last year and what can be replaced with anything new that is available this season.
And let me tell you – there is a lot to choose from out there!!
I have joined with a talented group of bloggers to share all sorts of early fall inspiration so be sure to scroll all the way to the bottom to see what ideas they have to help you get your house ready for the season.
As an Amazon Influencer, I earn from qualifying purchases. Some of the other links on this site are also affiliate links, which means I might earn a small commission if you love something as much as I do at no additional cost to you… but I only recommend what I actually like myself! 
Read the full disclosure here.
In a rush?
Use Faux Fall Stems Everywhere
You cannot avoid seeing faux fall stems on every decor website at this time of year.
And to be honest, I am okay with that!
However, I prefer the neutral tans, beige, and yellows for my faux stems.
Which honestly makes the search a tad harder because most fall stems seem to be bright oranges and reds (you know – like real fall foliage!).
Slowly over the last couple of years, I have been adding to my vase collection.
So that my faux fall stems look complete in the various vessels I display them in ;).

Find Strategic Places for Pretty Fall Wreaths
After faux stems for seasonal decor, wreaths are my go to. There are a million and one places you can throw a wreath up.
The obvious choice is your front door but how about your pantry door?
Or on top of a vintage window pane or shutter?
Or even on a hook on a wall somewhere in your house ;).
The options are endless – and honestly, you just cannot go wrong anywhere you put a wreath!
Especially if it is a stylish one ;).
The above wreath has a new home this year on my stovetop hood. But last year, it held a stunning place on a hook in my entryway as seen above ;).
The exact match is not available this year but here are some pretty close (and quite stunning I might add) options.

Decide What New Items to Add to Your Collection
Did you catch on above that new fall decor items are a weakness of mine?
Especially when I find pretty neutral items.
Like pumpkins/gourds.
There are always soooo many new ones every year.
Is it just me or does seasonal decor seem to even get better year after year???
Here are a few of the items I have added to my own fall decor collection this year:
Ceramic and Wooden Pumpkins

Thank you for reading my suggestions with simple fall decorating ideas.
I hope you found some ideas that are helpful to you in making your home cozy and welcoming for this upcoming season.
I cannot wait to share with you my ideas for the autumn gatherings I have planned as well as this year's fall getaway!
In case you are wondering where my fall getaway is to this year: my son and his girlfriend moved to Boston this week so I am excited to take this opportunity to explore that part of the country- especially in fall!
Don't forget to keep on scrolling below to see what my blogging friends have for you as well ;).
Looking for an item that wasn't linked in this post?
Be sure to check out my 'Home Tour' pages!
Did you find this post useful? Pin it to your boards – just click the Pin button in the upper right corner!
Autumn shows us how beautiful it is to let things go.

~ Unknown
Don't miss any of my tips, inspiration or stories! Follow me on Instagram, Facebook, and Pinterest.
As always, I love hearing from you!
I make every effort to reply to every comment below. But if I missed it – please feel free to contact me here.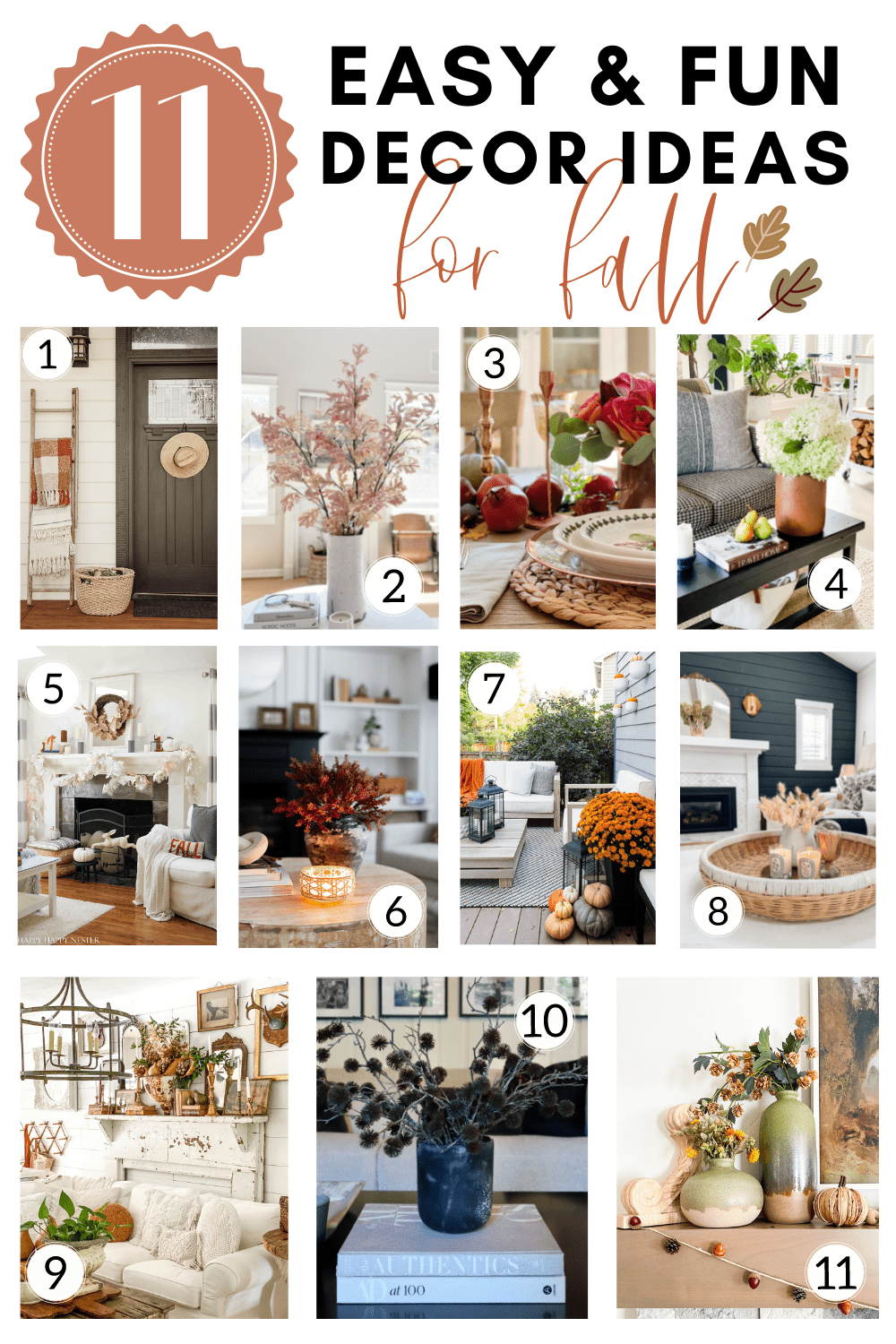 Minimal Fall Porch Decor by Twelve on Main
Simple Fall Decorating Ideas to Get Excited About by Pasha Is Home
Fall Table Ideas For Your Dining Room by My 100 Year Old Home
Four Simple Things to Refresh Your Home For Fall by Most Lovely Things
Paper Wreath DIY by Happy Happy Nester
Touches Of Fall by Craftberry Bush
Minimalist Fall Decor Ideas by Inspiration For Moms
Super Easy and Minimalist Fall Decor Ideas by Modern Glam
Create Simple Fall Mantel Decor with 3 Unique Accessories by Robyn's French Nest
Minimalist Fall Decor by My Sweet Savannah
Simple Fall Mantel Decor Ideas by The Happy Housie